We are proud to unveil a new Digital Humanities Now theme that responds to readers' requests for a responsive design, improved navigation, and increased transparency of the editorial process. An extension of the PressForward TurnKey Theme, DHNow's new theme reveals metadata collected by PressForward and offers new ways to make that metadata outwardly visible. We've even added a new blog to help readers stay up to date with the latest improvements to our publication.
Same Content in a Dynamic New Format
DHNow's new layout continues to display the four most recent Editors' Choice selections at the top of the page in a slide show and news items below the fold using a responsive design that you can read easily on displays ranging from mobile devices to large screens. In addition, the new theme places important information about our editorial process, how to submit a feed, how to volunteer, and how to be an Editor-at-Large right on the front page.
Improved Navigation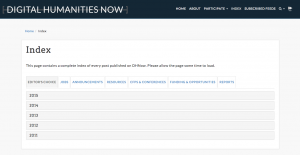 In addition to a redesigned homepage, you can now browse all of DHNow's previous features through our easy-to use indexes. Our Index page is divided into content categories: Editors' Choice, Jobs, Announcements, Resources, CFPs & Conferences, Funding & Opportunities, and Reports. Each page includes expandable tabs that list all posts in the category by year, making it easier for users to locate items that had previously been buried in our site's archives pages.

Increased Transparency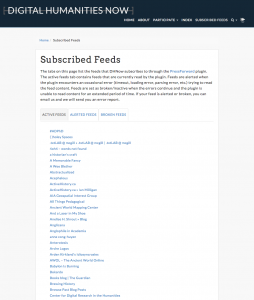 This design introduces a new page called Subscribed Feeds, which lists the titles of all of the feeds currently aggregated by DHNow and replaces our outdated "Compendium." Content from Subscribed Feeds populates DHNow's list of items reviewed and nominated by Editors-at-Large to feature on DHNow. Feeds appear alphabetically by the title according to three tabbed categories: Active, Alerted, and Broken.
Active feeds are currently read by the plugin.
Alerted feeds have been checked for new content but return errors (eg. timeout, loading error, parsing error, etc.).
Broken feeds lists feeds that have consistently returned errors rendering content unreadable by DHNow.
Increasing the visibility of our subscribed feeds makes the editorial process more transparent, while at the same time provides a service to those who submit content. Unfortunately, RSS/Atom feeds sometimes break down, resulting in errors that drag down the efficiency of our feed reader. As a result, we periodically clean out our Broken Feeds list. Now, checking our list will allow users to see if there are problems with their site's feed or if it has been removed. We invite anyone whose feed does not appear and who would like for it to be included to resubmit. We apologize for any inconvenience, and appreciate your patience as we attempt to improve the process.
New Blog
Our new design also features a DHNow blog, which will be updated periodically pointing users to new features, reviewing our editorial process, and showcasing the work of our dedicated group of graduate student Editors-in-Chief.
DHNow's theme incorporates open source libraries such as Liquid Slider, Dan Wild's Brew theme, Redux Framework, the Twitter Bootstrap Framework, and FontAwesome.
Many thanks to Amanda Regan for her hard work spearheading the redesign effort, and to the whole DHNow editorial team, including: Stephanie Westcott, Amanda Morton, Jordan Bratt, Aram Zucker-Schraff, and Lisa Rhody.