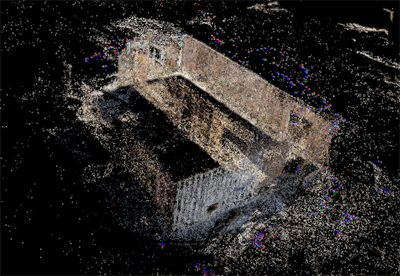 Spatializing photographic archives, a project funded by the National Endowment for the Humanities, entailed the release of open source software for recovering the 3D geometry of a location from photographs taken from diverse angles (and even at different times); and a case study of Richard Misrach's landscape photography demonstrating the value of this approach for scholars.
We've now completed an extensive and carefully illustrated White Paper for this NEH-sponsored project, a large pdf of which you may find here. (26.5mb).
The White Paper describes the open-source software tool we've developed, and our reasons for wanting to forge a new approach to making digital tool for scholars. It also examines the implications of our approach for photography. After examining the history of landscape photography in the American West, we show how by stepping outside the photographic frame and unfreezing a photographs's frozen instant, we can reveal many hidden aspects of photography and create new kinds of works.